Unsere Gemeinschaft projektiert einen sich selbstversorgenden, nachhaltig wirkenden, ökologisch unbedenklichen Lebensraum in Form einer Siedlungsanlage. Ein neuartiges Earthship! Hier möchten wir leben und arbeiten. Unsere Planung stellen wir frei in einem offenen Lizenzmodell zur Verfügung.
What brings this community together
Der Wunsch in Gemeinschaft mit einander zu leben. Jeder von uns besitzt einzigartige und wertvolle Talente und Fähigkeiten, die er / sie in die Gruppe einbringt.
Workshop and factoring spaces
Wir richten derzeit eine Werkstatt in Jena mit ca. 40m² Kapazität für die Vorfertigung von 2 Domen ein, mit der wir ab 2017 die LOVE DOME TOUR veranstalten. In der Pilotanlage wird es einen 70m² Werkstattbereich mit zusätzlich etwa 50m² überdachtem Außenbereich geben (Modul 2 - Werksatt)
Needs
Projects/Construction Sites
2x Tour Dome für die LOVE DOME TOUR 2017 und ab 2. Quartal 2017 die Pilotanlage unseres Earthships (auf Sizilien oder in Andalusien)
Experts/People with the following skills
Tischler
Bauingenieure
Architekten
Biologen
Soziologen
Baufachleute
Botaniker
Landwirte
Mediziner
Electricity
Materials
Konstruktionsvollhölzer

Bauhölzer

KVH
Aditional info about Materials
jeder Zustand ist willkommen und ok!
Tools
Flex

Oberfräse

Senker

Akkuschrauber

Werkbänke

Hobelbänke

Ständerbohrmaschinen

Kreissägen

Seile

Bandsägen

Handsägen

Taue

Schleifgeräte

Säulenbohrmaschinen

Fräsmaschinen

Spanngurte

Tischkreissägen

Handwerkzeuge

Schweißgeräte

Schweißschirme

Kappsägen

Schraubstöcke

Stichsägen
Additional info about tools
jeder Zustand ist willkommen und ok!
Seeds
Blog Posts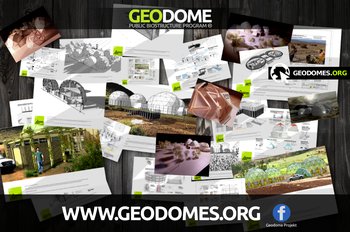 Wir freuen uns Teil des ECOBASA Netzwerkes sein zu dürfen!
written by Hannes Schneider on Nov. 14, 2016, 11:50 a.m.
Gern stellen wir euch unser Projekt und die dahinter stehende Gemeinschaft näher vor. Besucht uns doch einfach hier vor Ort in Jena, während der LOVE DOME TOUR 2017 oder helft uns bei der Errichtung des weltweit ersten GEODOME Earthships (in Italien / Sizilien oder Spanien / Andalusien).
UNSERE WEBSITE
WWW.GEODOMES.ORG
haben wir zudem eine sehr ausführliche Projektbeschreibung und die gesamte Entwurfs- und Ausführungsplanung für ein GEODOME Earthship für euch bereitgestellt.
KONTAKT
Bei Fragen wendet euch einfach per E-Mail an uns ...
read more